About Arrow Rock Ghost Tours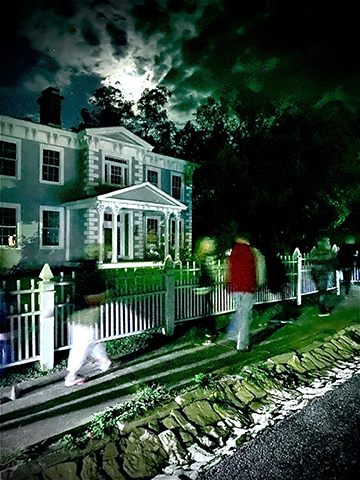 Spend an autumn evening in Arrow Rock on a walking tour, led by experienced tour guides who know all the haunts! Your guides will take you on a one-mile, two-hour journey through the town, down village streets, and off the beaten path, sharing ghost stories galore along with long-forgotten and recently unearthed true tales of murder, mayhem, and some horrifically bad medicine.
Although similar to October night tours that have been offered in Arrow Rock in the past, this tour mixes in some brand new stories, long-lost details about well known Arrow Rock events, previously unexplored paths, and fresh paranormal evidence.
This is a walking tour and although we'll travel at a leisurely pace with frequent stops, this tour is best enjoyed by people who can walk and stand for the tour's entire distance and duration. There will be two opportunities for sitting indoors — one midway through the tour and the other near the end — but in the event of a COVID-19 resurgence, we'll keep the entire tour outdoors for everyone's protection.
We'll begin the tour at 7:30 p.m. in front of the 1860s-era home of tour hosts Marty and Sandy Selby. Arrive a few minutes early to check in, visit with your hosts, and, if you'd like, purchase a souvenir T-shirt. We'll end the tour where we began, on the Selbys' wraparound porch, where you'll enjoy cookies and cider, and can share your own ghost stories.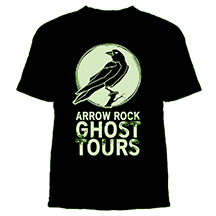 Souvenir T-shirts with a glow-in-the-dark Arrow Rock Ghost Tours logo are available at a discount in our Tour + Tee combo package, or before the tour for $15.
There are walks scheduled every Friday and Saturday evening between September 29 and November 4, 2023, with the exception of Arrow Rock's Heritage Festival Saturday (October 14). Arrow Rock Ghost Walks are also available for groups of 10 or more (or for a $250 minimum) by special arrangement at least two weeks in advance.
Ready for a boo-tiful evening in historic Arrow Rock, Missouri? Click here for tickets.